Pedi-Wrap Leg Immobilizer - With Straps
Description


Sold in Pairs
Prices range from $46-$50
WITH STRAPS
4" Velcro on One Side Allows Width Adjustment
2" Wide Velcro Straps Provide Additional Support
** SOLD IN PAIRS


In Hospital

Physical Therapy

At Home

Quickly controls Leg Movement
To Cover and Protect Injuries, Stitches and Bandages

To Support Legs (Bones and Muscles)
Braces Legs to Aid Children Standing and Walking
Night Splinting

Wash and Wear - (We recommend washing and drying in a load of towels with velcro overlapped.)
Friendly Appearance
Made of:
Outside Layer - Cotton Print
Middle Layer - Poly-fil
Inside Layer - 100% Cotton
Pocket - with Plastic Insert Included
Sizing
**SOLD IN PAIRS
7" Length


#601

9" Length


#602

11" Length


#603

13" Length


#604

Thigh

11" - 15"

Ankle

8" - 12 "


To Measure Size: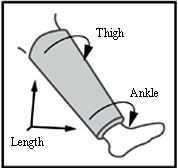 Holding the leg out, measure the
leg from the inner thigh to the ankle. This is the length you need.


Measure the circumference of the upper
thigh and the ankle. The Pedi-Wrap is intended to cover the full length of the patient's leg. It should be fitted as snugly (yet comfortably)as possible around the leg.