Adult Wrist Immobilizer
Description

Sold in Pairs
At Home or Office
For use with Carpel Tunnel, Tendonitis and Arthritis
Supports muscles and joints
Prevents wrist movement
Wash and wear (we recommend washing and drying in a load of towels with velcro overlapped)
Made of:
Outside Layer - Cotton Print
Middle Layer - Poly-fil
Inside Layer - 100% Cotton
Pocket - with Plastic Insert Included
Sizing

Adult size - 10" Length

Regular Cat. #108

Forearm

2" Velcro - both sides

Thumbhole size
1" by 2" square

Palm

Plus Cat. #109

Forearm

4" Velcro - one side / 2" Velcro - other side

Palm


To Measure Size: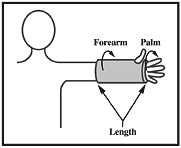 Legnth - Forearm to palm

Circumference - Around forearm and palm




Product Reviews
Login
or
Register
to write a review.
Reviewed by gsmackdiva
02/05/2015 - 04:36:25 PM
Great for a strained hand muscle
I strained a muscle in my hand at work and we had one of these on hand. I tried it out, my hand felt great after just a few hours. Great quality and awesome product. We have lots of them in stock where I work and our patients love them.